THE CHALLENGE
Not a one-stop-shop for what's going on @ work
Separate URLs / Apps / Systems, etc.
Tribal knowledge of where to do what
No sharing of information/collaboration/linkage across apps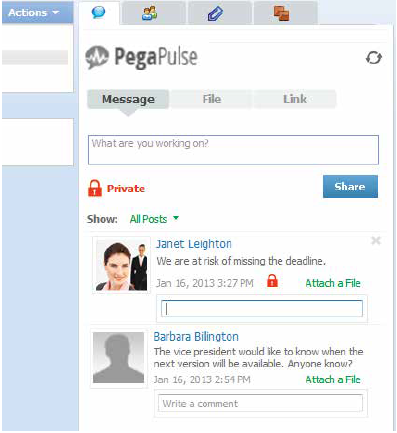 MY ROLE
I led the definition and the implementation of the product strategy and design
I was responsible for building the Pega Social from the ground up – from research to product strategy and design.
THE PROCESS
Audited existing features to understand the functionality and to identify which features need design thinking
Conducted competitor analysis to analyze best practices
Ran a card sort exercise to improve information architecture in navigation
Developed proto-personas to understand and empathize with users
Surveyed users to understand what was working and what wasn't
Led workshops to brainstorm and ideate
Wireframed and prototyped solutions using whiteboards, Sketch.
Collected feedback and tested hypotheses with internal stakeholders and external users
Developed a cohesive design solutions
Documented styles and components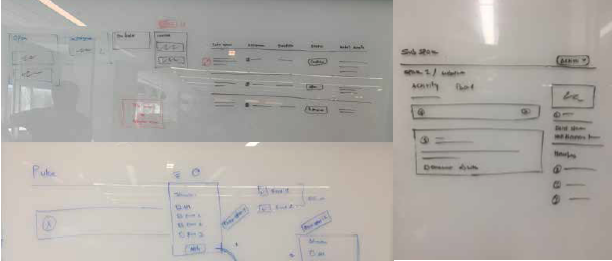 THE OUTCOME
Pega Pulse
Richer collaboration capabilities in Pulse so that it is easier to use it to share and post new feeds to other users.
Introduced robust filters to filter feed of choice
Ability to follow users
Real-time updates to Pulse Feed viewers when there are new posts available in that context!
New features, like, bookmark and tag posts are introduced
Present data from more than one specific source to support a single view of various events-discussions happening in the application.
Spaces and Curated Content
Create an ad-hoc space/group around a particular topic and collaborate with the members of that Group.
Admin to add/delete users to the Group
Create a PIN referring to Cases, Reports, Documents, Pulse posts, etc
Real-time collaboration on Documents
Ability create and view the new document in the application
Sharing a Document across multiple contexts